A new team of international students worked on improving the "Smart Storage Box" concept and turning it into a full-fledged innovative production line.
---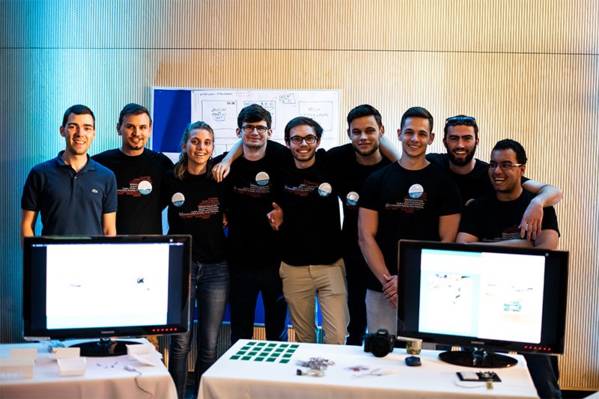 The days of having to manually search for an item ordered by someone are over.
We have created a smart guided assembly system which allows users to easily check on orders as well as receive visual feedback on the product"s location and on what needs to be refilled. Since we wanted to present a fun example of how such a smart guided assembly system can be used, we decided to create an accompanying "Biscuit Designer" which brings together both hardware and software – thus resulting in a great project for Smart Engineering.
Objective
Showing off the inner workings of Smart Engineering by using a fun concept
Brainstorming about the necessary equipment, tools and programmes
Acquiring more skills in presentation, teamwork, creative thinking etc.
Improving the previous design of the "Smart Storage Box", while still holding on to its basic features (excluding weight sensors)
Designing and 3D-printing necessary mechanical components for the project
Developing an embedded system
Developing a software-based ordering system
Bringing all parts together in a fully functional production line
Project steps
The EPS students completed a variety of steps ranging from the brainstorming sessions to role division, prototype creation, software development, hardware development, mechanical engineering and so on.
Outcomes
A fully functional production line including a software-based ordering/assembling system (for biscuits) and an embedded system which visually guides the user to the correct storage box
Software documentation
An online blog including project description, lots of information on meetings and more
Mechanical designs for various elements of the project
Improved soft skills
Happy supervisors and a happy team
Smart E's Production Line - hardware | Copyright: Steven De Keuster
Studierende
Anna Guitart - Spain
Christopher Baker – Scotland, UK
Jordan Nonnenbruk - France
Quentin Franchi - France
Fernando Leite - Portugal
Steven De Keuster - Belgium
João Cruz - Portugal
Denny Matthijs - Belgium
Laufzeit
17.02.2019 – 27.06.2019
Projektstatus
abgeschlossen
Beteiligte Institute, Gruppen und Zentren