Promotes economic success and the creation of future-oriented, sustainable working environments in a digital society.
---
Background
The Digital Innovation Hub Arbeitswelt KMU (work environment SME) is designed to promote the economic success of SMEs and the creation of future-oriented , sustainable work environments in a digital society. Through collaboration between research, administration, interest groups, and innovators, a deeper understanding of the needs of SMEs is developed, more targeted information is provided, and digital innovations are effectively implemented in, with, and for Austrian SMEs.
Focus and Key Characteristics
Close to specific work environments: The DIH Arbeitswelt KMU operates closely within the specific work environments of SMEs. This enables digital empowerment tailored to the concrete work practices and organisation of the participating SMEs.
Receptiveness for company-specific technologies: The DIH Arbeitswelt KMU focuses not only on specific technologies but on their entire spectrum. This broadens the range of possibilities for designing digital technologies.
Open to various industries: The DIH Arbeitswelt KMU operates across different industries, thus enabling cross-sectoral connections and synergies.
Connected since its foundation: The DIH Arbeitswelt KMU is closely linked with existing DIHs and is therefore represented in many regions. Relevant partners from Germany also ensure international knowledge transfer at the cutting edge of technology and research.
Objectives
Building upon existing knowledge, the expertise of SMEs is collaboratively developed in the sense of digital empowerment. This includes (1) digital empowerment through competence-building within SMEs as organisations and employers, (2) digital empowerment through competence development among the employees of SMEs, and (3) digital empowerment through networking as well as the gaining and exchanging of experiences among SMEs.
Added Value
Even large companies are increasingly unable to carry out all research and development activities on their own and in isolation, as it becomes more challenging to have comprehensive in-house expertise in all relevant areas. To unlock new value creation potentials, it is therefore necessary (especially for SMEs) to leverage external knowledge for their own digitisation projects and make their own knowledge accessible to others. Such an exchange can enable synergies beyond one's own market or industry boundaries and open up new markets. A core task of the DIH Arbeitswelt KMU is to make the information barriers of SMEs more permeable, facilitate exchange, and systematically provide new knowledge.

Funding
You want to know more? Feel free to ask!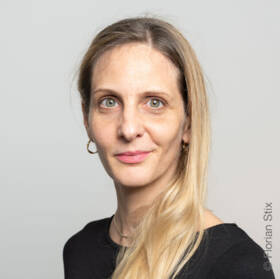 Deputy Chairperson of the University of Applied Sciences Board
Head of Department
Head of Research Institute
Institute for Innovation Systems
Department of Digital Business and Innovation
Location: Building B - Campus-Platz 1
M: +43/676/847 228 401
Partners
Johannes Kepler Universität Linz (lead)
Institut für Berufs- und Erwachsenenbildungsforschung, Linz
Fachhochschule Oberösterreich – Campus Hagenberg
Kunstuniversität Linz – Creative Robotics
Partner:
Akarion GmbH
Arbeiterkammer OÖ Zukunftsfonds
Ars Electronica GmbH und Co. KG
emporia Telecom GmbH & Co. KG
FH Vorarlberg – Digital Factory
GAB München - Gesellschaft für Ausbildungsforschung und Berufsentwicklung [Deutschland]
Google Austria GmbH
GRAND GARAGE CAP.future GmbH
IFS München – Institut für Sozialwissenschaftliche Forschung [Deutschland]
Linz AG
Lunik2
MINT Analytics GmbH
nutventures GmbH
N`Cyan
Stadt Linz – Magistrat
TU Chemnitz [Deutschland]
Ubitec GmbH
Funding
FFG (Digital Innovation Hubs)
Runtime
04/01/2021 – 10/01/2023
Involved Institutes, Groups and Centers