Energy efficiency and sustainability are issues which affect every aspect of our lives. The company Sonnenplatz Großschönau implements sustainable and energy efficient building projects.
---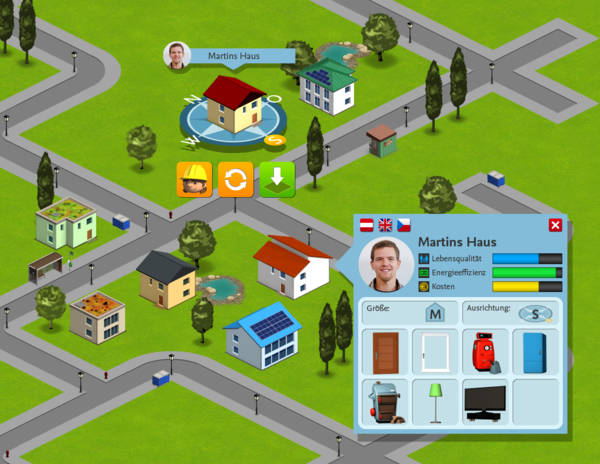 Sonnenplatz Großschönau is an association dedicated to the promotion of sustainable and energy efficient building and started planning its Energy Adventure World visitor centre, an exhibition focusing on the topic of housing in the future and through the ages, in early 2013. The Media Computing Research Group evaluated the use of computer games in the exhibition, and devised a concept paper on playfully engaging the visitors in the topic of the exhibition using a computer game. The goal of the game, which is played on a small tablet computer, is to leave the smallest possible ecological footprint by acting as energy-efficiently as possible. It is played while walking around the exhibition, and players can find out the information they need to make the best decisions from the exhibits.
When the interior of the house is selected, the player can view their current energy efficiency, quality of life and money scores. The house can then be transferred on to a multitouch table, where it can be rotated and resized, and then placed next to and compared with other houses in a village. At the end of the game, the visitors can take away a paper printout of their footprint. This includes details of the in game decisions which determined the footprint.
A functional prototype based on the concept was developed by a group of master programme students and completed by our research group. Game graphics specialists from Team Vienna Games developed the graphics. The multitouch table game was designed and developed by Martin Grubinger, who is a former member of the research group.
External Staff
Ingrid Stürmer
Ewald Wieser
Martin Grubinger
Alexander Raab
Stefanie Wappel
Florian Hammer
Partners
Sonnenplatz Großschönau
Team Vienna Games
Involved Institutes, Groups and Centers