Developing the showroom of the future for Bene using Virtual Reality (VR) technology
---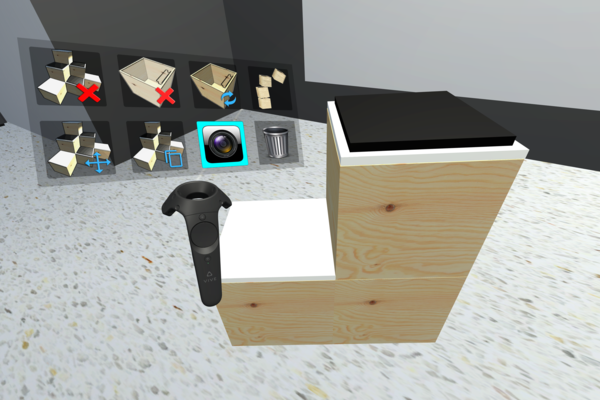 This project was developed as a part of the Enterprise 4.0 program, in which several leading Austrian businesses partnered with Universities and created showcases to demonstrate the ways in which these companies can use the most recent developments in technology to their advantage.
In this program, the Digitech Research Group partnered with Bene, a renowned producer and distributor of office furniture, to develop the showroom of the future. This showroom uses virtual reality (VR) technology to showcase the Pixel product line and allow the users to interact in new ways with the showcased products.
Pixels are basically wooden boxes which can be stacked together to build other furniture items such as desks, chairs, benches or even a full-size bar including the counter and stools.
These properties made the Pixel line exceptionally interesting for a virtual reality application, because it allowed us to showcase the products in a very playful way, enabling users to build huge forts out of the virtual Pixels and therefore creating a Minecraft-esque experience.
We designed a custom VR-toolbox which is situated on the player's left hand. This toolbox offers submenus, which allow for a lot of different creative tools, while not overloading the user with too many options at a time.
The toolbox allows the users to create single elements, attach them together, manipulate and clone whole groups of Pixels, modify single items within a group, and even save their beautiful creations as Prefab objects for later re-use.
We even took it a step further and embedded various fun bonus tools. These include a virtual snapshot camera to take photos of your creations and save them on the PC, and a physics mode, where you can see if your creation would survive the gravity of the real world. And if it does, you can still push it over with your hands, just for the fun of it.
The project was showcased at the IoT Forum in Vienna, on the 28th November 2017, as well as the Enterprise 4.0 Forum on the 4th December 2017, where the attendees had lots of fun trying out the application, especially the physics mode.
External Staff
Huang Chen
Johannes Ambrosch BSc
Funding
State of Lower Austria
Runtime
01/01/2017 – 10/31/2017
Involved Institutes, Groups and Centers