Establishing a research focus on alternative engine systems, energy efficiency, digitisation and automation.
Railways- technology for the future
Railway technology is a key element in the future of mobility concepts and is well-established in research, education and business in Lower Austria. This offers great potential for joint research and development of innovative technologies. The expertise hub is further strengthened by establishing a new research focus on alternative engine systems, energy efficiency, digitisation and automation. In addition, networks in Lower Austria are further developed.
Research at the Institute for Integrated Mobility Research
The Carl Ritter von Ghega Institute for Integrated Mobility Research at St. Pölten UAS conducts applied research and development in the fields of railway technology and mobility. The focus is on the core competence, the comprehensive knowledge of the railway system. This know-how makes it possible to identify future challenges and develop solutions in good time. In cooperation with national and international partners, approaches for new mobility solutions are researched and developed. Especially at the interface to other modes of transport, innovations are always in demand. Founded in 2013, the institute has so far carried out more than 30 research projects with a funding volume of more than 1.4 million euros.
Building and maintaining know-how
The seed funding establishing of a new research focus provides the opportunity to intensify and expand the research on alternative engine systems, energy efficiency, digitisation and automation in the field of railway technology. The research group works closely with ecoplus and establishes new expertise in St. Pölten as well as driving a clear research agenda nationally and internationally. Cooperation with neighbouring regions making use of research funding programmes is also one of the concrete goals of the research group.
Benefits for education and training
The Institute for Integrated Mobility Research works closely with teaching, which guarantees excellent, practice-oriented teaching and gives students easy access to research activities, thus also promoting young talent. Through the company network, gaps and needs in training and further education will be identified and the necessary new content developed. The output of the new research focus is not only relevant for courses in railway technology but also for courses on smart engineering, mechatronics / microsystems technology or robotics.
Awareness-raising measures
Austria is one of the largest exporters of rail carriages and related equipment, holds a large number of railway-relevant patents and is home to leading companies. However, this is currently not well publicized- therefore awareness-raising measures will be developed and implemented, not only to inform the general public, but also to inspire young people and talents for this sector.
You want to know more? Feel free to ask!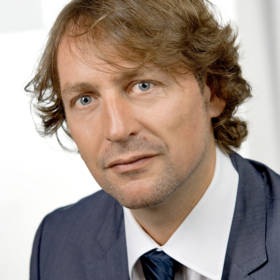 Head of Research Institute
Carl Ritter von Ghega Institute for Integrated Mobility Research
Deputy Academic Director Rail Technology and Mobility (BA)
Department of Rail Technology and Mobility
Member of the UAS Board from 2023 to 2026
Location: Building B - Campus-Platz 1
M: +43/676/847 228 664
External Staff
Dipl.-Ing. Alexander Geiger BSc
Lukas-Immanuel Stock (student employee)
Runtime
12/01/2018 – 06/30/2021
Involved Institutes, Groups and Centers