Initial steps for implementing automated shunting operations in rail freight transport.
Background
The European rail freight transport system suffers from long transportation times and low flexibility. In particular, the wagonload traffic (individual wagons from different shippers and recipients are separated and collected into trains per destination) could be streamlined by automating the processes through modern technologies. Currently, shunting operations are predominantly done via screw coupling – a manually performed task that is time consuming, cost-intensive and even dangerous. Alternatives have already been tested and several initiatives (e.g, European projects, projects in Germany and Switzerland) press ahead with their plans to establish digital automatic coupling (DAC) as a new standard throughout Europe.
Project Content
Sustainable freight transport that minimizes the negative impact on the environment is only reachable with a shift in the modal split (contribution of different means of transport to overall traffic) towards more rail transport. However, railway transportation is hampered by outdated technology and a skills shortage. Qualified personnel that is able to perform shunting operations is hard to find. Therefore, it has become a pressing issue to look for alternatives. A promising path is the use of modern technology by assembling railcars via digital automatic coupling (DAC). To do the groundwork for the implementation of such systems is the main aim of the present project.
Goals and Methods
The consortium DAC4EU aims to equip trains throughout Europe with automatic coupling systems. To investigate what consequences this entails for the Austrian railway freight transport system and to lay the foundation for the implementation of such systems are the main objectives of the present project. DAC4EU conducts pilot studies with different prototypes and performs test runs with trains. The current project builds on the insights gained by the consortium and examines which problems could arise when DAC is implemented, the ways in which it affects all kinds of operational processes as well as the ways in which it changes the working environment, workplace safety and what qualifications it needs to operate such a system. It is a long-term aim to automate the coupling and decoupling procedure and everything it includes in a way that enables a single person to carry out all necessary tasks alone. Such a profound transition goes hand in hand with changes in infrastructure and equipment. Which additional features do the trains and stations need and which features are not needed anymore are questions that arise. Moreover, concepts and contrivances have to be devised, interfaces for energy supply and data exchange are required, simulations and laboratory tests for automated coupling, decoupling, deceleration, venting etc. need to be run, and norms and railway-specific regulations have to be adapted.
Results
The scientific partners (Oberösterreich UAS, TUG, AIT, St.Pölten UAS) benefit from the project as the acquire new competences in different areas of the railway sector (e.g., operational processes, new technologies and developments). This improves their standing as researchers and educators in the field of sustainable mobility on the national and international level. The projects makes a substantial contribution to the technology, security and climate strategy of the Austrian federal railway (ÖBB). By applying and introducing new technologies the ÖBB strives to increase productivity, streamline processes, improve quality and their services and gain market share in the transport sector. For the industrial partners m-zero, Ulbrich and PJM the results obtained will stimulate ideas for the development of new products and services. Siemens (associated partner) will gain knowledge that supports them in furthering the technological change and adjusting the operational processes on shunting yards accordingly (in Austria and all over Europe). The broad scope of the project as well as the close collaboration among the project partners and the involved stakeholders ensures that different aspects are considered before future innovations are launched.
Mobility of the Future is a research, technology and innovation funding programme of the Republic of Austria, Ministry of Climate Action. The Austrian Research Promotion Agency (FFG) has been authorised for the programme management.
You want to know more? Feel free to ask!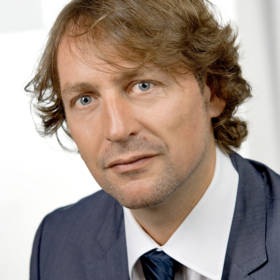 Head of Research Institute
Carl Ritter von Ghega Institute for Integrated Mobility Research
Deputy Academic Director Rail Technology and Mobility (BA)
Department of Rail Technology and Mobility
Member of the UAS Board from 2020 to 2023
Location: B - Campus-Platz 1
M: +43/676/847 228 664
Partners
ÖBB-Infrastruktur Aktiengesellschaft
AIT Austrian Institute of Technology GmbH
FH OÖ Forschungs & Entwicklungs GmbH
Fachhochschule St. Pölten ForschungsGmbH
m.ZERO OG
PJ Monitoring GmbH
Technische Universität Graz Institut für Maschinenbau und Betriebsinformatik
ULBRICH Maschinenbau- und Export-Import Betriebsg.m.b.H.
Funding
FFG (Mobilität der Zukunft)
Runtime
09/01/2021 – 08/31/2024
Involved Institutes, Groups and Centers