Meta-analysis of critical success factors concerning solutions in the field of freight traffic and transport logistics
Background
In recent years, Austrian R&D activities concerning freight transport have mainly focused on developing solutions and strategies to reduce negative developments (rising emissions and immissions, threatening CO2 related fines, high energy and resource consumption). From that innovative approaches for the reorientation of freight logistics have emerged, however, they rarely are implemented and demand for them is low. The main obstacle being that those innovations may show a wider economic benefit, but are not profitable on a business level under current conditions. The needed fundamental paradigm shift towards a sufficient or sustainable goods mobility system is thus inhibited or only addressed very slowly.
Project objective
The MUKE project addresses these challenges in an interdisciplinary way: Instead of constantly researching new technical or organisational approaches in the field of sustainable freight concepts, MUKE uses meta-analysis to focus on identifying and overcoming barriers that have hindered the implementation of promising innovations. The research focuses deliberately on two areas, most frequently mentioned by actors in the freight logistics industry, as basic requirement for the implementation of innovations:
Adaptation of legal framework for transport logistics of the future
Mind-set and awareness building to create positive framework conditions for the implementation of existing/future innovations in freight logistics
Methodology & Results
In a first step, the project identifies those barriers critical for the successful implementation of innovations, based on promising, completed but not implemented approaches. From those barriers, recommendations for measure are developed. These include on the one hand formulating proposals for the adaptation of legal framework conditions (legal building blocks) and on the other hand developing novel strategies for mind-set and awareness building (e.g. nudging approaches to reduce 'innovation fears', making actual logistics costs transparent). Decision-making processes of actors in transport logistics as well as consumers are taken into account through workshops and evaluation of willingness to pay. Active feedback to stakeholders ensures acceptance within the logistics industry and creates the conditions for a realistic assessment of rebound effects.
The main results of the study are
recommendations for action to adapt the legal framework
strategies to increase awareness of economically sensible innovation projects in freight logistics
a ranking of measures according to the size of the impact in terms of climate targets and sustainability
Tasks of the Carl Ritter von Ghega Institute
The Carl Ritter von Ghega Institute for Integrated Mobility Research supports the project in evaluating existing framework projects and identifying obstacles, especially in the area of urban logistics.

You want to know more? Feel free to ask!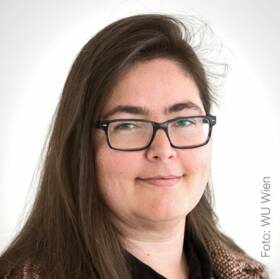 Senior Researcher Carl Ritter von Ghega Institute for Integrated Mobility Research
Department of Rail Technology and Mobility
Location: B - Campus-Platz 1
M: +43/676/847 228 481
Partners
TBW research GesmbH (Lead)
WU Vienna – Research Institute for Supply Chain Management
WU Vienna - Institute for Austrian and European Public Law
Funding
Suncontractor in a BMK-Mbility of the future project
Runtime
03/01/2020 – 02/28/2021
Involved Institutes, Groups and Centers