Developing needs-based curricula, training and education paths for the rail sector
Background
Rail transport is a major driver in pursuing the strategic European objective of smart, green and sustainable growth. Rail transport already plays a key role for Europe's economy and society, but has the potential to contribute much more. The sector is experiencing a severe skills shortage and a need for re/upskilling. Additionally, a large share of the current workforce is expected to retire within the next 10 years. There is also currently a major transformation process driven by research and innovation, which requires suitable skills and competencies. The European rail sector is moreover affected by fragmentation among its stakeholders (operators, infrastructure managers, suppliers, etc.).
Project content
STAFFER develops training and education paths as well as curricula based on current and future skills and competence needs for the whole rail sector. These are then validated for effectively increasing employability and career opportunities. Cross-European mobility programmes and work-based internships for students, apprentices and staff will be implemented. STAFFER delivers human capital solutions for all levels of rail value chain to unify the entire European rail system.
Project results
The result of STAFFER is the establishment of a rail stakeholder partnership, the Sector Skill Alliance. The Alliance develops a holistic Blueprint strategy to recognise present and new skill needs adequately and timely, and substantially contributes to the Single European Rail Area. The strategy will allow to overcome the fragmentation of the rail sector, and help rail industry as well as vocational education and training (VET) institutions to design and realise concrete actions to satisfy skills needs, beyond the project's lifetime and beyond the organisations involved in the Alliance.
More information on the project can be found on the STAFFER webpage.
You want to know more? Feel free to ask!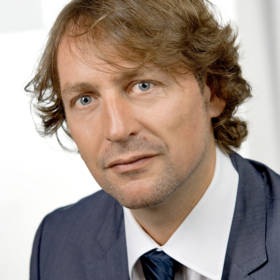 Head of Research Institute
Carl Ritter von Ghega Institute for Integrated Mobility Research
Deputy Academic Director Rail Technology and Mobility (BA)
Department of Rail Technology and Mobility
Member of the UAS Board from 2020 to 2023
Location: B - Campus-Platz 1
M: +43/676/847 228 664
Partners
Università degli Studi di Genova(Lead)
ALSTOM Transport SA
Aristotle University of Thessaloniki
Bombardier Transportation GmbH
Construcciones y Auxiliar de Ferrocarriles S.A.
Community of European Railway and Infrastructure Companies
CESI Campus d'enseignement supérieur et de formation professionnelle
CFL - Société nationale des chemins de fer luxembourgeois
CNAM (Conservatoire National des Arts et Métiers)
Czech Technical University in Prague
Deutsche Bahn AG
La Sapienza University of Rome
ESTACA
FIF Fédération des industries ferroviaires
For.Fer
Ferrovie dello Stato Italiane
Hitachi Rail STS S.p.A
HTL Mödling
HTL Rennweg
Infrastructure of Serbian Railways JSC
Knorr-Bremse Systems für Schienenfahrzeuge GmbH
Mafex - Asociación Ferroviaria Española
ÖBB-Infrastruktur AG
PRORAIL B.V.
Szkoła Główna Handlowa w Warszawie
Siemens Mobility Ltd.
Société Nationale des Chemins de Fer Français (SNCF)
Technical University of Dresden (Germany)
Fachhochschule Erfurt
University of Belgrade Faculty of Transport and Traffic Engineering (FTTE)
UNION DES INDUSTRIES FERROVIAIRES EUROPEENNES
wmp consult
Funding
Co-funded by the ERASMUS + programme of the European Union
Runtime
11/01/2020 – 10/31/2024
Involved Institutes, Groups and Centers