Combining methods from different disciplines to investigate communication strategies on climate change.
Background
Ecological initiatives and measures aimed at reducing greenhouse gas emissions are often only reluctantly accepted by the broader public or even face strong resistance from stakeholders and pressure groups. Research on social movements has shown that public framing determines how concerns, problems, and challenges are perceived and whether people join in activities tackling them. The more a frame resonates with widespread beliefs, the higher the likelihood that initiatives are supported by different societal groups. Additional key components are prognostic and motivational frames. In other words, to motivate people to take action a reachable solution needs to be offered. Global warming poses a problem, indeed, and it is often framed as "disaster", "opportunity" or "uncertainty". This is in alignment with world views prevalent in society, but solutions, ideas and positive outlooks to motivate people are underrepresented in the media and in public discussions.
Project Content
In the present project we examine two cases of ecological innovations, which sparked contentious public debates in Lower Austria: the introduction of the soya bean as an alternative agricultural plant and the wind turbines. Although both initiatives are regarded as relevant contributions to mitigate global warming, their acceptance by the general public was undermined by constantly framing and re-framing it as topic. To thoroughly analyse and reconstruct such processes in this project we combine approaches from sociology, film studies and history. This will give a better understanding of how frames change the public perception of ecological innovations. On top of that, it will lay the foundation for appropriate communication strategies that support the implementation of necessary measures in the future.
Goals
In present project we analyse public communication about climate change on four different levels:
We intend to provide new insights into how climate change is framed. Apart from deepening the understanding of the underlying processes this will also make a profound contribution to an emerging field at the intersection of sociology, media research and history.
We study two subjects that have been largely neglected in research on climate change communication so far: the soya bean and wind turbines. Comparing two thematically relatively unrelated cases will reveal differences in framing strategies but common patterns as well (i.e., master frames that might work independently of the underlying topic).
By combining methodologies from different disciplines (sociology, film studies, history) we aim to develop a multimedia tool for analysing media frames.
We intend to make results available for relevant and interested stakeholders, thereby enhancing the impact of this research on society.
Methods
The project is based on theoretical and methodological approaches from three different disciplines: sociology, film studies and history. It combines quantitative content analysis with qualitative content analysis and film analysis, thereby closing a methodical gap.
In quantitative content analysis sequences of texts are encoded by turning them into numbers and scores (using a standardized codebook) that can be easily fed into statistical analyses. Systematic qualitative film analysis builds on different techniques: Retelling a plot or story, reproducing and examining filmic quotes and film protocols, as well as image-based techniques using film stills and image sequences. This mix of different types of media-specific analyses form a common ground and the basis for a social discourse. The project works with print media, television formats, but also ephemeral forms such as commercials and industrial films. In addition, by involving key stakeholders such as journalists and filmmakers as well as experts in climate research and environmental law, we gain insight into their practice and are able to better support their future work with the project results.
Results
The results obtained during the project can serve as guidelines for regional ecological initiatives to rethink and improve their communication strategies and properly frame their ecological agenda. In addition, to further propagate new concepts of communicating relevant and necessary measures, the results will be discussed in workshops with interested stakeholders. A better understanding of historical and contemporary frames will also open new perspectives for journalists and can motivate them to reflect on their work. In particular, major media stakeholders such as the ORF, who are part of the project from the beginning, are highly interested in the findings of the present project as they expect a positive impact on their journalistic work. The outcomes and insights of the project will also be integrated into the educational programs of the scientific project partners. Moreover, the development of intermedia research methodologies will benefit the scientific community. The project offers a best-practice model that can be used for further investigations on various climate change discourses as suggested by the Climate Change Center Austria (CCCA).
You want to know more? Feel free to ask!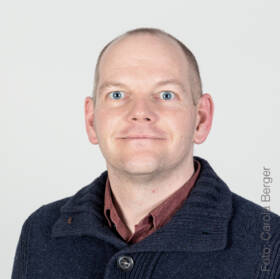 Head of
Media Creation Research Group
Institute of Creative\Media/Technologies
Senior Researcher
Media Creation Research Group
Institute of Creative\Media/Technologies
Department of Media and Digital Technologies
Location: Building A - Campus-Platz 1
M: +43/676/847 228 644
External project manager
Jessica Richter
Ulrich Schwarz-Gräber (former project manager)
Students
Johanna Daser
Astrid Ebner-Zarl (former project member)
Sophie Bezensek (former project member)
External Staff
Ernst Langthaler
Partners
Institute of Rural History
Runtime
05/01/2022 – 04/30/2025
Involved Institutes, Groups and Centers