Modern sensor technologies and image processing tools to track changes on a construction site.
Background
Building Information Modelling (or BIM) is a collective term for digital methods and tools used in the construction industry. These methods make it possible to create a digital 3D model of a construction project on the basis of technical data and architectural plans. Currently, such technologies are only employed during the planning phase. However, it could save costs, if they would be used during construction as well as by facility management.
Project content
The most profound problems of a building project occur during the construction phase. Using two-dimensional plans and documents in the format of lists often results in a lack of coordination on the building site or that workers find themselves to be forced to improvise. In addition, free-hand sketches and notes that are written down on printed plans are often the only piece of information where adjustments and modifications are recorded. There is usually no overall model (or plan) that describes the progress on the construction site accurately. However, such a model would come in handy, as it would make changes visible for everyone involved. Damage and coordination problems could be mitigated then, it would be easier to meet deadlines and to check whether the desired state is in accordance with the actual state. Needless to say, that all this would save costs. Indeed, when combining modern sensor techniques with sophisticated image processing and data visualization tools, such an overall model is within reach.
Goals
The team of the current project employs modern sensor technology, image processing algorithms and intelligent methods of data processing to create an all-encompassing building model that is updated regularly from real world data. The methods developed make it possible to monitor the progress on the building site and to react flexibly to changing demands and make necessary adjustments. Economic, ecological and technical aspects are considered. Apart from all that the project is an important step towards the digitalisation of the building sector.
The aims of the project are…
to create a digital building model that represents the current state of a construction site and that makes the progress and the proper execution of single steps tangible.
to develop a method helping to document changes for all groups involved; those who do the planning, those on the building site, and those who are responsible for facility management.
to pave the way for a real-time localisation of objects via mobile sensor technologies; in particular, 3D image processing algorithms that do not require artificial markers but operate purely on natural features.
to automatize processes with the help of the developed methods, thereby reducing the costs and the workload that are usually needed to document changes on a construction site.
Methods
The team of St.Pölten UAS focuses on methods capable of precisely identifying objects and determining their 3D position in an room. This is done with the help of sensors and image processing techniques that use colour (red- green-blue colour channels) and texture as a source of information. Depth information, on the other hand, is acquired with the help of optical distance sensors (SLAM and LIDAR). The project leaders from the TU Wien are concerned with positioning and mapping (SLAM tracking), hardware integration, 3D reconstruction and matching the geometric data with the BIM model. The corporate partner performs requirement analyses and evaluations and provides the necessary data to the project.
Results
The methods developed here facilitate target-performance comparison during construction projects. With the help of modern sensors and image processing tools the building progress is monitored and constantly updated. Overall, management and decision-makers are given a tool that enables them to adapt more flexibly to changes on the construction site and arrive at more informed decisions with respect to economical, ecological and technical factors.
You want to know more? Feel free to ask!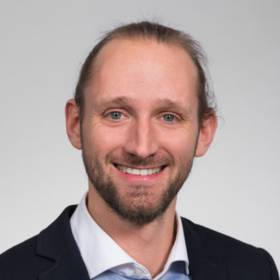 Head of
Media Computing Research Group
Institute of Creative\Media/Technologies
Department of Media and Digital Technologies
Location: A - Campus-Platz 1
M: +43/676/847 228 652
Partners
Technische Universität Wien, Institute of Visual Computing and Human-Centered Technology (lead)
rtech engineering GmbH
Runtime
09/01/2021 – 08/31/2024
Involved Institutes, Groups and Centers