Using Extended Reality (XR) Technologies to Learn New Skills and Optimise Processes.
Background and Project Content
Enhancing the perception of reality (Augmented Reality, AR) with the help of technical means as well as building environments in which the boundaries between real and virtual worlds become blurred (Mixed Reality, MR) offer new possibilities of collaboration and data visualisation. Many sectors might profit from this development, however, it is not yet widely known how such technologies could be usefully applied and which advantages and potentials they harbour. The project IMPACT-sXR seeks to close this gap by developing a training and assistance concept. This includes task-related planning, execution and production information that makes it easier for users to intuitively learn new working methods and apply technical know-how. The concept relies on AR and MR technologies and approaches (XR in short) to support trainings for or during assembly or maintenance processes as well as in quality control.
Methods and Objectives
The project team is planning to
test new forms of location-independent collaboration. This includes working in teams through the integration of real-time 3D in-depth information on the real environment and the visualisation of real-time production data that users can interact with.
establish new XR-assisted training and learning methods. XR methods allow for training scenarios that are adaptive and can be parameterised more easily. In other words, they increase the measurability of learning success and make it possible to adapt trainings to changed circumstances faster. Moreover, training contents can be provided for several participants at once (without having to install additional software) and playful elements can be integrated into the teaching of content (gamification).
create processes together with the users in order to ensure acceptance for the newly developed technologies and working methods in the companies.
identify the advantages of XR solutions in terms of sustainability, energy and resource efficiency, and the potential reduction of the ecological footprint.
Results
In the project IMPACT-sXR, industrial partners and universities work together to strike new paths in knowledge transfer and the optimisation of working processes with the help of XR technologies. The large network of project partners (23 partners from the industry and four universities) ensures that a variety of use cases are covered and that the knowledge of possible uses for XR technology is widely disseminated. The research results are made available to the public – unless they affect company-specific data or processes – and can therefore be also of use for companies that are not involved in the project.
You want to know more? Feel free to ask!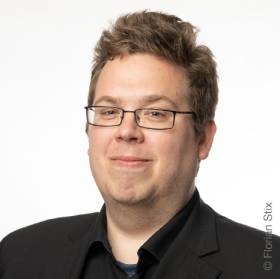 Head of Research Institute
Institute of Creative\Media/Technologies
Deputy Academic Director Smart Engineering (BA)
Senior Researcher Industry 4.0 Smart Engineering (BA)
Department of Media and Digital Technologies
Location: A - Campus-Platz 1
M: +43/676/847 228 651
External project manager
Thomas Holzmann (ecoplus)
Students
Tobias Rabo
Ramon Brullo
Partners
Geodata Group
Hoerbiger Wien GmbH
Umdasch Group Ventures GmbH
RHI Magnesita GmbH
Palfinger AG
Lenze SE
Otto Bock HealthCare Products GmbH
Wr. Linien GmbH & Co KG
Voestalpine Böhler Welding Group GmbH
ÖBB-Personenverkehr AG
Bosch Rexroth GmbH
ZKW Group GmbH
voestalpine Signaling Zeltweg GmbH
Trotec Laser GmbH
Framag Industrieanlagenbau GmbH
AUVA
Takeda Pharma Ges.m.b.H.
AMS
Swietelsky AG
Siemens AG
Haumberger e.U.
Inventio GmbH
FH Oberösterreich
ecoplus
FH Joanneum
TU Wien
Funding
FFG (Basisprogramm)
Runtime
09/01/2021 – 12/31/2023
Involved Institutes, Groups and Centers