Using methods of interactive data visualisation to present biographies
Conveying history using digital means
The RegioBioGraph project explores the potential for local history education that has emerged as a result of ongoing digitalisation. Based on biographies and their regional context, the project explores narrative forms that combine elements of time-based media with data visualization. The resulting "RegioBioGraph" combines media and information elements based on visitor interaction and outputs them as narratives.
Film's ability to conserve and rearrange events has shaped access to history over long stretches of the 20th century. In the context of ongoing digitalisation, the question arises to what extent the variety of narrative approaches we know from film and media history can be combined with techniques dedicated to the presentation and linking of data. Citizen Science archives of local history, such as the Topothek, now provide extensive data sets and audiovisual artefacts and raise the question what such an archive can tell us- and how.
Appropriate narrative forms are developed for combining time-based media with interactive data visualisation based on specific questions:
How do specific concepts from other media such as montage or overarching concepts such as storytelling relate to the new possibilities of interactive data visualisation?
How can biographical and socio-historical contexts be conveyed with these new tools?
What form of data preparation is needed to keep such an archive connectable and networkable?
How to open an archive to a variety of questions in order to improve the understanding of history?
How can existing techniques of audiovisual and textual media be adapted to this new environment?
What kind of interface is needed to make it accessible?
Project goal
RegioBioGraph uses a transdisciplinary dialogue to develop the foundations of a new narrative form. The project results in a prototype of a "RegioBioGraph" which is capable of constructing narratives based on specific questions. This prototype is tested in the environment of a local history museum. RegioBioGraph promotes knowledge about the mediatisation of history on an epistemological level and provides a dramaturgy for the digital means currently available.
Methodology
In the course of the project, new methods for presenting biographies are developed based on two case studies:
Case study I deals with the historical Jewish community of the Lower Austrian town of Groß-Enzersdorf. Here, relatively little detailed biographical information is available, but there exists a great deal of contextual information affecting all biographies.
Case Study II includes specific biographies that form the core of the film documentary "Über Weiter Leben". These narrative interviews are available as a film.
At the beginning of the use cases and in-depth research, dramaturgical and narrative concepts are examined and adapted using the possibilities offered by data visualisation. Data formats are standardized and a prototypical visualization design is developed.
Based on the data collected in two case studies, the prototype is evaluated in a regional museum and concrete guidelines for the narrative presentation of biographical information are derived.
Partner
The archive and the theatre history collection of the Institute for Theatre, Film and Media Studies at the University of Vienna date back to the founding year of the "Central Institute for Theatre Studies" in 1943, when the institute's founder Heinz Kindermann began to build up a teaching and research collection relevant to Nazi ideology. This history and the holdings were suppressed and forgotten for decades. Since 2008 the institution tries to face the responsibility of its NS history through exhibitions, research projects, publications and lectures, to communicate this history and to stimulate research.
Links
Institut für Theater-, Film- und Medienwissenschaft
Völlig fraglich. Vergessene Geschichte. Eine Ausstellung des Instituts für Theater-, Film- und Medienwissenschaft der Universität Wien zur nationalsozialistischen Gründungsgeschichte
Sammlungsideologie und Geschichtsschreibung. Forschungsgeleitete Digitalisierung theaterhistorischer Materialien des "Zentralinstituts für Theaterwissenschaft" 1943–45
You want to know more? Feel free to ask!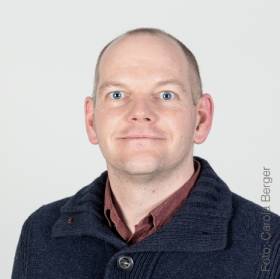 Head of
Media Creation Research Group
Institute of Creative\Media/Technologies
Senior Researcher
Media Creation Research Group
Institute of Creative\Media/Technologies
Department of Media and Digital Technologies
Location: A - Campus-Platz 1
M: +43/676/847 228 644
Partners
Universität Wien - Archiv und theaterhistorische Sammlung des Instituts für Theater-, Film- und Medienwissenschaft
Funding
Gesellschaft für Forschungsförderung Niederösterreich (NFB-FTI Call 2018 Digitalisierung)
Runtime
01/01/2020 – 12/31/2023
Involved Institutes, Groups and Centers