Explainable and trustworthy AI solution in an easy-to-use platform for SMEs.
Motivation
Virtually every industry and business area is currently being transformed by artificial intelligence (AI) and machine learning. According to Gartner Inc., global AI revenue amounted to $62.5 billion in 2022, which was an increase of 21.3% compared to 2021. However, small and medium-sized businesses struggle to keep up with the technological advances and fully leverage available AI solutions.
Challenges
While current AI systems are capable of analysing vast volumes of data, they typically operate completely automatically and mostly perform predetermined tasks (e.g., speech or object recognition). However, small and medium-sized enterprises (SMEs), in particular those working on specialized applications, require AI solutions that are customized to their problems and data. Furthermore, companies facing fierce competition must constantly adjust their strategies. This calls for new AI systems that are more flexible and adaptable to strategic shifts. Another limitation of contemporary AI technologies is their high complexity and intransparency. Because the models rely on millions of learnt parameters, it is difficult to grasp and explain how they make their decisions. Therefore, methods that provide more transparency and contribute to building trust through intuitive explanations are required. Ultimately, there is a lack of knowledge in applying the most recent AI solutions and many companies do not have sufficient personnel resources to adapt AI solutions to their needs.
We intend to address the above-mentioned limitations in the current project. Thus, the primary goal of the project is to make AI services more accessible and transparent to SMEs.
Goals
We intend to provide a platform for AI services that can be interactively trained and dynamically tailored to the specific requirements of SMEs. The services should make AI-based decision-making transparent, easy to use, and provide guidance for specific applications. On the path to realize the "TrustAI Service Platform" the project takes the following actions:
Requirements analysis involving potential users of the platform, primarily focusing on SMEs, while also considering cultural and public institutions. An advisory council comprising experts from research and industry guarantees that the most pressing needs are considered.
Development of a novel machine learning paradigm that leverages explainability approaches to build trust and provides interactivity to adapt to the users' needs.
Development of enhanced user interfaces for a bi-directional and multi-faceted human-machine communication.
Setting up the TrustAI Service Platform where the developed AI core modules are easily accessible to SMEs.
Evaluation of the novel machine learning paradigm and the platform based on case studies in the fields of agriculture, cultural heritage and medicine.
Using the results of the case studies as a basis for follow-up projects.
This project is an initiative of the Center for Artificial Intelligence (http://cai.fhstp.ac.at) at St. Pölten University of Applied Sciences and directly contributes to the two research foci of Human-Centered AI and Trustworthy AI.
Methodology
The project aims to develop a novel explanation-based interactive learning approach. In contrast to traditional learning schemes in AI that rely on data annotation or label-based feedback (so-called active learning), our interactive learning paradigm enables human users and AI to engage in a continuous dialogue. This dialogue gradually deepens the understanding of the problems related to a given task. Additionally, the training progress is monitored permanently. This involves assessing the model's functioning and assisting in the identification of data biases. A transparent coordination process reduces the impact of biases and misinterpretations and, as a result, makes the AI solutions more trustworthy and better fitted to the actual task.
Result
We develop a novel methodology for training AI systems interactively and transparently. Techniques from the fields of interactive AI and explainable AI are combined, which can be regarded as a first step in initiating a shift from pure (totally automatic, opaque, and rigid) "artificial intelligence" to collaborative, adaptable, and trustworthy "assistive intelligence." On top of that, the newly created methods serve as the cornerstone for the TrustAI Service Platform, which provides all basic functionalities through user- and application interfaces (API).
The platform eliminates the need for massive amounts of annotated training data, makes it easier to tailor solutions to individual business problems, and offers explainable and reliable AI models. As user interfaces of the platform are kept straightforward and generally understandable (in accordance with accepted Human-Computer Interaction standards), it does not require users to have any prior technical knowledge to use AI solutions.
Company collaborations
We welcome requests from businesses who want to use our platform and learning methodology for their tasks and look forward to working with them as well as assisting them in overcoming the challenges they face.
You want to know more? Feel free to ask!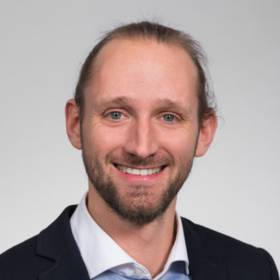 Head of
Media Computing Research Group
Institute of Creative\Media/Technologies
Department of Media and Digital Technologies
Location: A - Campus-Platz 1
M: +43/676/847 228 652
Funding
FFG/Coin Aufbau (Nr: FO999898085 )
Runtime
05/01/2023 – 04/30/2027
Involved Institutes, Groups and Centers